LY019 linear driver is an extremely important product in the industrial industry. The maximum thrust is 2000N, the no-load speed is 7~30mm/s, and the IP65 protection level can effectively prevent dust and water. It can be used in the environment of -15℃~45℃. The LY019 metal linear actuator is made of high-quality aluminum alloy, and the surface has been polished by multiple polishing processes, and the structure is tightly designed. Built-in limit switch, the telescopic rod will automatically stop when it reaches the end point to protect the motor from burning; the metal gear adopts powder metallurgy technology, excellent workmanship, and it supports customized travel. The colleague can be equipped with remote control, hand controller, mounting bracket, etc. Compared with LY017, LY019 motor has a larger volume, and the maximum output load force can reach 2000N. It is especially suitable for large load capacity and small working occasions. It has strong versatility for the new energy industry, agricultural machinery and other industries.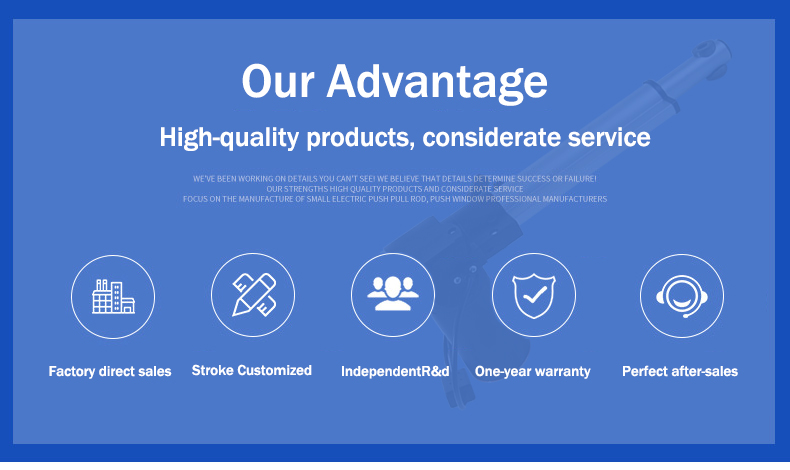 Lunyee Group focuses on the design, development, production and sales of industrial factory automation system solutions. Our main products are AC motors, DC motors and linear actuators. Among them, AC motors mainly include small AC geared motors and micro AC geared motors; DC motors mainly include brushed DC motors and brushless DC motors; linear actuator series mainly include medical electric actuators, industrial actuators, furniture actuators, and controllers System, manual controller, etc.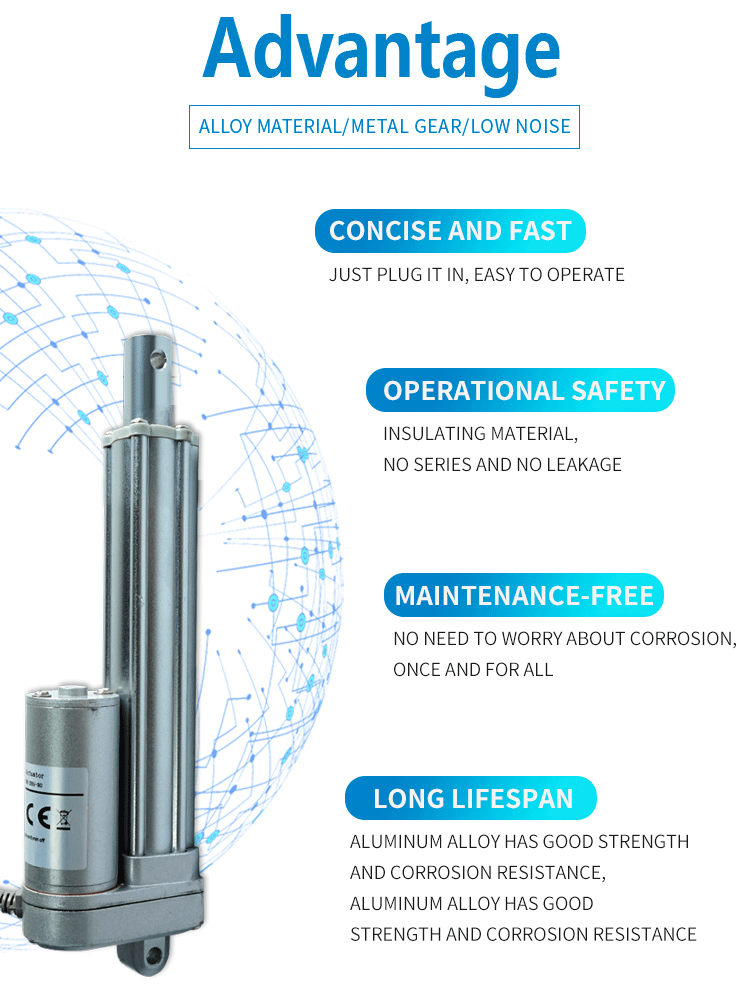 1. DC permanent magnet motor, simple and compact structure, made of pure metal stainless steel seamless steel tube, sturdy and durable;
2. Optional input voltage: 12V/24V/36V/48V DC;
3. According to the use requirements, the optional speed is from 7mm/s to 70mm/s;
4. Customizable itinerary (Stroke);
5. Thrust load is 100N to 2500N;
6. Normal temperature: -15 ℃ to 45 ℃;
7. Optional signal feedback type: potentiometer, Hall;
8. With built-in travel switch, there is a good self-locking function, no sliding or slipping;
9. The equipment has an overcurrent protection function;
10. The protection level is IP65:
(1) The product adopts alloy gear, high strength, long life and wear resistance;
(2) Passed CE certification, salt spray, waterproof, temperature test, with anti-corrosion function;
11. The slider can be customized before and after the product, and the selection is flexible and unlimited;
12. This product is widely used; special vehicles, mining properties, environmental sanitation industry, etc.